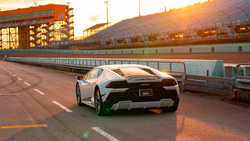 Engine:
5.2 L Premium Unleaded V-10
Horsepower:
630 @ 8000 RPM
0-60 MPH:
3.0 Seconds
Torque:
442 @ 6500 RPM
Drivetrain:
Rear-Wheel Drive
Transmission:
7 speed Auto-Shift Manual w/OD
The Lamborghini Huracan EVO is a rear-wheel drive version of one of the most iconic modern supercars in the world. From the unmistakable look of its stealth body to its legendary performance, it's no wonder that drivers come from all over to experience this ride on a wide open track.
The Huracan features an enormous 5.2L V10 engine, one of the biggest in the industry. It also features an upgraded dual clutch transmission, a welcome addition after the older Lamborghini's single-clutch generation. Lamborghini also decided to lean into technology a little bit more this year with a full-color display that offers insights about how the car is performing and walks you through startup. This car also introduced Lamborghini's new driver mode setup which allows you to select from a variety of different comfort and steering configurations to create a totally personalized driving experience. This is great news for drivers who want to make the leap and enjoy a test track driving experience because you will get the chance to explore working with the Huracan's intuitive driver assist features even as you launch yourself from 0-60 in 3 seconds and weave your way through the corners. You will feel the Huracan adjust itself to the shifting of weight as you round the bend, and you won't ever feel out of control as the tires grip the track with precision
Track Dates
Saturday, September 3, 2022 -Homestead Miami Speedway 
Saturday, October 8, 2022 -Homestead Miami Speedway - SOLD OUT!

Saturday, December 10, 2022 -Homestead Miami Speedway - Limited Spots Available!
Book your driving experience NOW
When was the last time you drove a supercar on a closed professional course, at over 140 mph?  When was the last time you felt the g-force pressure pushing you back into your seat as you take a corner flat-out?
The team at Miami Exotic are so in love with the art and design of exotic cars so much, that we built our business around it for people like us! We make the dream of racing these ultra exclusive cars possible for everyone. It is common knowledge that only a select few have the financial means to purchase their own exotic car; so it is Miami Exotic Auto Racing's goal to bring this dream to a reality. Drive a Ferrari 488 GTB! Drive a Porsche GT3 RS! Drive a Lamborghini Huracan EVO! Drive them all!
In fact, buy laps for your favorite dream car, or get multi-car/multi-lap discounts when you drive more than one of your dream cars on the same day. Our highly experienced pit crew services all of our cars on a daily basis to ensure you get best possible exotic race car driving experience.